July 26-27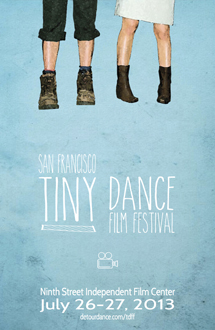 RAWdance's since you went will be screened as part of the inaugural Tiny Dance Film Festival (TDFF), featuring in international array of short dances made for the screen. TDFF prioritizes dance filmmakers who embrace brevity and experimentation and promises to be an exciting entree of dance films for the connoisseur and curious alike.
Times:
8:00pm, July 26-27, 2013
See the full schedule here.
Venue:
Ninth Street Independent Film Center
145 Ninth Street, Suite 101
San Francisco, CA
Tickets:
$15 General/$10 Students & Artists (Single program)
$25 Two-day Festival Pass
Advance tickets are available through Brown Paper Tickets.