Current Dancers
KELLY DEL ROSARIO
Kelly was born and raised in Mililani, HI. He began his studies in Dance in 2001 at the University of Hawaii at Manoa and received his BFA in Dance in 2005. Upon graduation, Kelly moved to San Francisco where he has worked with various artists including the Margaret Jenkins Dance Company, Project Agora, Sarah Bush Dance Project, Robert Moses' Kin, project.b, and RAWdance.
CLAIRE FISHER
Claire was born and raised in Tracy, California. She received a majority of her training from Alonzo King LINES Ballet, San Francisco Conservatory of Dance, Hubbard Street Dance Chicago, & Northwest Dance Project. Now a freelance artist in San Francisco, she has appeared in several works and collaborations with wonderful artists and companies such as Brannigan Dance Works, Dazaun Soleyn, Fullstop Dance, Garrett + Moulton Productions, Liv Schaffer, RAWdance, ZiRu Dance and The MoveMessenger(s).
YEBEL GALLEGOS
Yebel Gallegos is a multi-faceted dance artist from El Paso, Texas. He played an important role in founding Cressida Danza Contemporánea in Yucatán, Mexico. During his time with Cressida Danza, Yebel was a dancer, company teacher, and rehearsal director. More recently, Yebel concluded a six-year tenure dancing full-time with the Ririe-Woodbury Dance Company, based in Salt Lake City, Utah. Yebel has also traveled globally as a performer and educator and has recently earned his Master's in Fine Arts degree from the University of Washington. He currently serves as a Visiting Assistant Professor at Bard College.
CARLY WILLOW JOHNSON
A California native, Carly received early training at the age of two. She continued her studies at SOTA, Alonzo King LINES Ballet and completed her BFA from SUNY Purchase Conservatory of Dance. Carly has had the pleasure of working and performing with various artists including Ja'Malik of Ballet Boy Productions, Carmen Rozestraten, Nelly Van Bommel of NØA Dance, Sidra Bell, Andrea Miller of Gallim Dance, Robert Moses' KIN, Dexandro "D" Montalvo, Tanya Bello's Project.B, Guilty Pleasures Cabaret, RAWdance and had the opportunity to perform as Baryshnikov's silhouette in his show Letter to a Man at Zellerbach Theater. In addition, Carly is also a 200hr certified yoga teacher.
ARVEJON JONES
ArVejon Jones is a Bay Area freelance dance artist and educator. Originally from Los Angeles, CA he has performed with Copious Dance Theater, Robert Moses Kin, PUSH Dance, SOULSKIN Dance, ODC Dance/ SF, Concept o4, Sean Dorsey Dance, Prometheus Dance Theater, Jean Appolon Expressions, and Garrett+Moulton Productions among others. He has taught for multiple institutions including San Francisco State University, BodyVox, Boston Ballet, LINES/ SF Dance Center, and various private dance studios. He is delighted to be collaborating with RAWdance.
KYLE LIMIN
Kyle Limin (they/them) is an educator, choreographer, and performing artist with a focus on contemporary and hip hop dance. They continue to contribute over fifteen years worth of art to their hometown, San Francisco, and the greater Bay Area. Kyle runs the dance program at Creative Arts Charter School and teaches at several studios in the city.
NICK WAGNER
Nick is a body mover and somatic healer in the Bay Area holding a BFA in dance performance and a minor in kinesiology from Chapman University. He is also a certified massage therapist (CMT) and a first level Responsive Body practitioner (responsivebody.com). When not in the studio, Nick manages his bodywork practice nwbodywork.com. The intersection of somatic experience, expression, and touch, as it's stretched across time, is what interests him the most.
JULIANN WITT
Juliann was born in Marin and began dancing at the age of three. As a young dancer she trained at the California Academy of Performing Arts and attended summer programs with American Ballet Theatre and Alonzo King LINES Ballet. Juliann received her BFA in Dance Performance from SUNY Purchase and performed briefly in NYC post graduation. Since returning to the Bay Area she has had the pleasure of dancing with many great artists and companies including DTSF, Nol Simonse, Bellwether Dance Project, Dexandro "D" Montalvo, Fullstop Dance, Robert Moses' Kin, Liv Schaffer, Concept o4, and the San Francisco Symphony. She has been a member of RAWdance since 2018, and is incredibly grateful to have participated in numerous performances with these extraordinary artists!
KATERINA WONG
Katerina (Katie) Wong is a multidisciplinary movement artist, choreographer, and filmmaker. Katie served as a Co-Artistic Director of RAWdance from 2019-2023 and as Associate Artistic Director from 2018-2019. Her work has been commissioned by Pop-Up Magazine, California Academy of Sciences, ACLU of Northern California, FACT/SF, PUSH Dance Company, and more. Katie's choreography has been presented at Lincoln Center, YBCA, ODC Theater, Z Space, and CounterPulse, as well as in public/alternative spaces including TJPA's Salesforce Park, Golden Gate Park, Exploratorium, Yerba Buena Gardens, and Fort Mason. As a freelance movement artist, she has performed with more than 15 Bay Area dance companies and is a guest artist with the San Francisco Symphony. Katie graduated from Princeton University and has participated in arts leadership programs by Dance/USA, Women of Color in the Arts, APAP, and Asylum Arts. Her artistic practice is rooted in meaningful collaboration, community bridge building, and physical storytelling — a reflection of her mixed heritage as a first generation, Chinese-American, Jewish artist, and new mom.
ERIN YEN
Erin Yen holds a BFA with Distinction in Dance from The Ohio State University, where she became fluent in the Laban Systems of Movement Analysis. She was the first to use Labanotation to document Doug Varone's work, and she can be found polishing this notated portion of Possession ('94.) Erin has danced with companies such as Alvin Ailey and BalletMet, and she has performed works by artists Ohad Naharin, Bebe Miller, and Johannes Weiland. Since moving to the Bay Area, Erin has performed at venues such as Glen Park, CounterPulse, and the Green Room. She is a current resident of San Mateo.
STACEY YUEN
A Bay Area native, Stacey received her BFA in Dance from NYU's Tisch School of the Arts. She went on to work with Seán Curran and the Santa Fe Opera, and to travel to Greece to perform in works by Johannes Wieland and Stella Zannou at the one small step dance festival. She spent three seasons as a dancer and rehearsal director with the Sticky Trace Company in Germany. Since returning to the Bay, Stacey has worked with Robert Moses, Katie Faulkner, Jennifer Perfilio, Lenora Lee Dance, Alyssandra Katherine Dance Project, and RAWdance.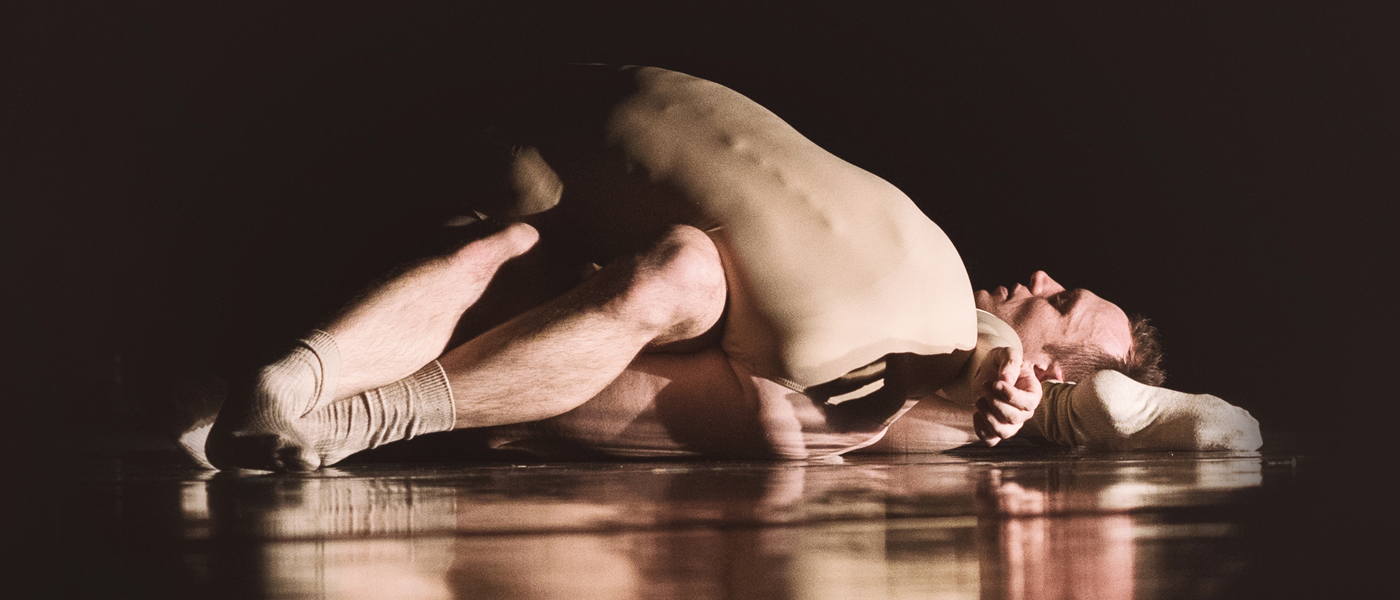 Designers
DEL MEDOFF Lighting Designer
Del is an Oakland-based lighting designer/technician who has designed for dozens of Bay Area companies including Margaret Jenkins Dance Company, Deborah Slater Dance Theater, Christy Funsch, Peiling Kao, Sharp and Fine, 13th Floor Dance Theater, Bellweather Dance, and many more. He has always felt strongly connected to dance and is grateful to the community for giving him a home. "You can't have a light without a dark to stick it in." – Arlo Guthrie
CHAD OWENS Scenic Designer
Chad has created original staged designs for more than 100 productions, for companies including Washington National Opera, Lyric Opera of Kansas City, Opera Theatre of Saint Louis, Cal Performances, Aurora Theatre, and West Edge Opera. Set Design and Art Direction for film include Blue Jasmine, Milk (Oscar and Art Director's Guild noms for best production design), Chasing Mavericks, Haywire, The Pursuit of Happyness (sic), The Wild, Haiku Tunnel, Woman on Top, and Bunraku. Owens has also worked extensively as an Art Director for TV, and an Associate Designer on Broadway. He is based in Oakland.
SURABHI SARAF Composer
Surabhi is a media artist, composer, and performer based in Brooklyn, NY. She is the recipient of the Fleishhacker Foundation Eureka Fellowship Award and the Djerassi Resident Artist award. She is a current resident at Harvestworks NY, and was a 2019 technology resident at Pioneer Works in Brooklyn. Saraf has performed at Soundwave Biennial ((8)); Thessaloniki Contemporary Art Biennial, Greece; Currents International New Media Festival, Santa Fe; San Francisco Electronic Music Festival; and Max Mueller Bhavan Goethe Institut, Mumbai and New Delhi, among others. She has had solo exhibitions at Galerie Mirchandani + Steinruecke, Mumbai, and Hosfelt Gallery, San Francisco. Her work has been featured in the San Francisco Bay Guardian, Blouin Art Info, Art Practical, and KQED Arts. surabhisaraf.net
JOEL ST. JULIEN Composer
Joel is a San Francisco-based composer, musician, songwriter and sound artist who has written music for documentaries, short / feature films, podcasts, and dance. He is a firm believer in experimentation/fusion with acoustic and electronic elements in sound oscillating through escapism and the mysticism of the present tense. www.joelstjulien.com
Photos by Hillary Goidell