Times
Program B
8PM Friday, September 15
8PM Saturday, September 23
Buy tickets ONLINE or by phone or in person through the YBCA box office
Venue
YBCA Forum
701 Mission Street
San Francisco, CA 94103
RAWdance performs a new work created for new Transform Fest at Yerba Buena Center for the Arts, sharing a double bill with Fauxnique.
Transform Fest 2017 features nine prolific Bay Area dance companies and art makers responding to the question "Why Citizenship?". These commissioned works are designed to activate an immersive installation by sculptor and architect Giacomo Castagnola. Artists include:
Program A: Embodiment Project / Jesse Hewit
Program B: Fauxnique / RAWdance
Program C: Amy Seiwert's Imagery / Larry Arrington, Sandra Lawson Ndu, & Minoosh Zomorodinia / Fogbeast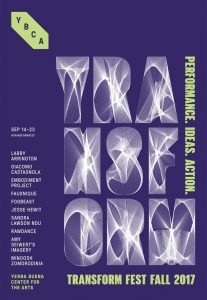 For its own new work, RAWdance will look at the recurring history of clashes between power structures and society's intellectuals and culture makers: from the destruction of the library of Alexandria to China's Cultural Revolution, the Khmer Rouge to the Spanish Civil War. Critical thinking has regularly and quite often violently been considered a threat, risky to those in power or those trying to usurp it. What does it mean to be an informed citizen?
Read more about YBCA's Transform Fest and all the artists involved
Photo Credit: Margo Moritz