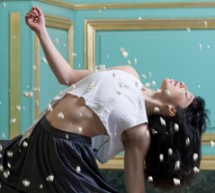 An informal and intimate salon of contemporary dance
A modern day salon, the CONCEPT series shares skilled dancing and innovative choreography up-close and personal in a casual atmosphere. The series strives to provide choreographers freedom outside the usual confines and rules of production, allowing for the simple creative process of 'taking an idea and running with it'. Choreographers are encouraged to share work at any point along the creation process, from revisiting repertory to testing out a work-in-progress fresh from the studio. Many RAWdance works and works by guest choreographers have begun here and have developed in a way that's only possible with a live audience.
The series began in December 2007, and has presented works by 116 artists to date. Popcorn, coffee, and snacks are provided (and encouraged) during performances, adding to the casual vibe. Voted Best Way to Sample SF's Contemporary Dance Scene in SF Weekly, one reviewer writes "Dance aficionados and newbies find plenty to like in this semi-regular series… hosted and curated by choreographers Ryan T. Smith and Wendy Rein. […] You pay what you can to enter. There's food. And the work is really good."
Join us next on January 17-18 for the CONCEPT series: 27!
Guest Artists who have been presented by the CONCEPT series
ahdanco (Abigail Hosein)
Alison Williams Dance
Alma Esperanza Cunningham Movement
Alyssandra Katherine Dance Project
Amy Foley
Amy Seiwert's Imagery
The Anata Project (Claudia Anata Hubiak)
Arletta Anderson & Adam Smith
Aura Fischbeck Dance
Bhumi B. Patel
Bianca Cabrera / Blind Tiger Society
Bob Webb / Bare Bones Butoh
Brannigan Dance Works
Breton Tyner-Bryan and Dancers
Byb Chanel Bibene
Catherine Galasso
Chlo & Co
Chris Black
Christian Burns
Christine Bonansea
Christy Funsch
Courtney Mazeika
David Herrera Performance Co.
David Martinez
dawsondancesf/Gregory Dawson
Deborah Slater Dance Theater
Deep Waters Dance Theater (Amara T. Smith)
detour dance (Kat Cole and Eric Garcia)
Dexandro "D" Montalvo
Diane Frank
Dominic V. Duong
EmSpace Dance (Erin Mei-Ling Stuart)
Erik Wagner / Crawl Space
Facing East Dance and Music (Sue Li-Jue)
FACT/SF (Charles Slender)
Flyaway Productions (Jo Kreiter)
Fog Beast (Melecio Estrella and Andrew Ward)
Folawole
GERALDCASELDANCE
Gretchen Garnett & Dancers
Headmistress / Amara T. Smith
Heidi Schweiker
Here Now Dance Collective (Michelle Fletcher)
Himma (Christine Cali & Amy Helmstetter)
Holly Johnston/LEDGES AND BONES
Hope Mohr Dance
James Graham Dance Theatre
Jennifer Perfilio | Movement Works
Jhia Louise Jackson
Joseph Copley & Deborah Miller
Julie-Ann Gambino & Yoshie Kateada
Kaitlyn Ebert and Mark Goodwin
ka·nei·see | collective (Tanya Chianese)
Katerina Wong
Katharine Hawthorne
Kathleen Hermesdorf / La ALTERNATIVA
Kegan Marling
kelly kemp & company
Kim Ip/Krimm's Dance Party
Kristin Damrow & Company
KT Nelson
Laura Bernasconi & Carlos Venturo
Lauren Simpson and Jenny Stulberg
ledges and bones dance project (Holly Johnston)
Lenora Lee Dance
Liberation Dance Theater (Jacinta Vlach)
Lily Dwyer & Scott Marlowe
Lindsey Renee Derry / L i n s d a n s
Lisa Townsend Company
Liss Fain Dance
Manuelito Biag
Margaret Cromwell
Margaret Jenkins Dance Company
Mark Foehringer Dance Project | SF
Mary Armentrout
Mary Carbonara Dances
Maxine Moerman Dancetheatre
Michael Velez
The MoveMessenger(s) (Angela Dice Nguyen)
Nancy Karp + Dancers
Natasha Adorlee's Concept o4
Nhan Ho Project
Nichele Van Portfleet
Nina Haft & Company
Nol Simonse
OOMPH Dance Theater
Palanza Dance (Hilary Palanza)
Post:Ballet (Robert Dekkers)
Printz Dance Project (Stacey Printz)
project agora (Kara Davis)
Project.B. (Tanya Bello)
punkkiCo (Raisa Punkki)
PUSH Dance Company
randy reyes
Randee Paufve
REACH BC Dance Company
Red Brick Company/Nick Korkos
Risa Jaroslow & Dancers
Robert Woods-LaDue & Sarah Woods-LaDue
Rogelio Lopez & Dancers
Sarah Bush Dance Project
Sean Dorsey Dance
Sharp & Fine (Megan Kurashige and Shannon Kurashige)
Shinichi Iova-Koga and Larry Ochs (with Dohee Lee, Jason Hoopes, Gretchen Jude, and Edward Schocker)
Smith/Wymore Disappearing Acts (Sheldon Smith and Lisa Wymore)
SOULSKIN Dance
Stranger Lover Dreamer (Rogelio Lopez, Andrew Merrell, Elizebeth Randall, and Shaunna Vella)
Sydney Franz
Takami
tinypistol (Maurya Kerr)
Todd Eckert Dance Company
Victor Talledos
Virginia Matthews
Vispo Dance (Erin Okayama)
Yayoi Kambara
13th Floor Dance Theater (Jenny McAllister)
Press
The CONCEPT series was voted  Best Way to Sample S.F.'s Contemporary Dance Scene!

Contemporary dance as a chummy, pretension-free meet-up? That's the winning concept behind RAWdance's CONCEPT series, a thrice annual salon where new dances are served up alongside generous helpings of popcorn, cookies and coffee. Every iteration brings a unique mix of ideas and dance styles, but it's always a low-key, highly entertaining event with effervescent emceeing by RAWdance founders Ryan Smith and Wendy Rein.

(CS#23)

The CONCEPT series is not only about offering a choreographic range to audiences, it is about championing artists to share work that is on a creative journey, whether that journey is just beginning or is nearing its final destination.

(CS#21)

RAWdance's CONCEPT series is an appetizer menu for modern dance; a fun, casual and intimate program featuring an assortment of San Francisco contemporary performance.

(CS#14)

"The Concept dance series is a rare bird hiding in San Francisco's cultural aviary.  …[W]atching dance in such a climate changes your perception of the art."

(CS#11)

"intimate evenings of fleshed-out and nascent works by cutting-edge dancers and performers."

(CS#9)

"Every iteration of "the CONCEPT" brings something new, so prepare to be surprised."

(CS#8)

"I'm here to tell you: RAWdance's Concept series can become addictive."

(CS#8)

San Francisco Bay Guardian
May 25, 2011

"RAWdance's "Concept" series – this one was number seven – is an emotionally and intellectually satisfying way to tune into recent Bay Area choreography. […] Curating the programs are RAW's co-artistic directors Wendy Rein and Ryan T. Smith who have their ears to the ground, ferreting out artists who want to try out re-thought or in-progress works. […] this relaxed, yet stimulating evening made for a tasty upcoming season's opener."

(CS#7)

"pull up a chair, nibble on some popcorn, and catch the latest from some of the Bay's most unique dance minds."

(CS#7)

"The evening was short, sweet and savvy."

(CS#1)

"What if going to a dance concert were more like going to the movies? You could sit back and relax, eat and drink and, get to see all the action up close. With […] the CONCEPT Series, produced by RAWdance's Artistic Directors, Ryan T. Smith and Wendy Rein, we may get our chance. […] Creating an event that is low cost, low tech and gives  the community a chance to come together, not just to watch the show and go home but perhaps to also get enough of a caffeine buzz to talk about what they've just seen, seems like a pretty great idea."

(CS#1)

"[RAWdance's CONCEPT series] is bound to be the quintessential San Francisco experience of traveling to a new neighborhood and discovering a hidden jewel in the city."

(CS#1)

Bay Area Reporter
November 29, 2007