Conceived, curated, and choreographed by RAWdance's Co-Artistic Director Katerina Wong, Step/Song/Story is a free collaborative storytelling event that brings together Bay Area-based dancers, musicians, and text-based artists for a public cross-disciplinary performance. Visit our main event page for the full 2022 artist lineup, with performances on September 25, October 16, and November 20.
Step/Song/Story
November 20, 2022 at 12pm & 2pm
Concept, Curation, & Direction: Katerina Wong
Step: RAWdance collaborators Kelly Del Rosario, Juliann Witt, Katerina Wong, and Erin Yen
Song: Dillon Vado
Story: Participants of The Elder Project: Grace D'Anca, Helen Dannenberg, Matthew Greer, and Mary Gayle Thomas
Director of Litquake's Elder Project: Kevin Dublin
Technical Director: Thomas Bowersox
Production/Stage Manager: Twyla Malchow-Hay
Step/Song/Story is presented by RAWdance in partnership with the Transbay Joint Powers Authority (TJPA), owner and operator of the Salesforce Transit Center and Rooftop Park.
Land Acknowledgement
It is with gratitude and humility that we acknowledge that TJPA's Salesforce Park and RAWdance's home base are located in Yelamu, also known as San Francisco, on the unceded territory of the Ramaytush Ohlone people. We ask you to join us in acknowledging the Ramaytush Ohlone, their elders both past and present, as well as future generations and encourage you to learn more about the land where you reside at NATIVE-LAND.CA. To take direct action towards rematriation, read about the Bay Area's Shuumi Land Tax.
From the Artistic Director
We're thrilled to continue our partnership with TJPA's Salesforce Park to uplift incredible local artists through this free, public platform. There's nothing like seeing the kinetic energy of dancers, hearing the rhythmic pulse of musicians, and feeling the poignant words of poets to remind us of the multifaceted world we inhabit as humans. When we come together in creative conversation, our collective voices and stories generate vital space for reflection and transcendence. It's a true honor and inspiration to work with these artists. Please enjoy the show, continue to support the arts in your communities, and follow these wonderful artists' future projects!
– Katerina Wong, RAWdance Co-Artistic Director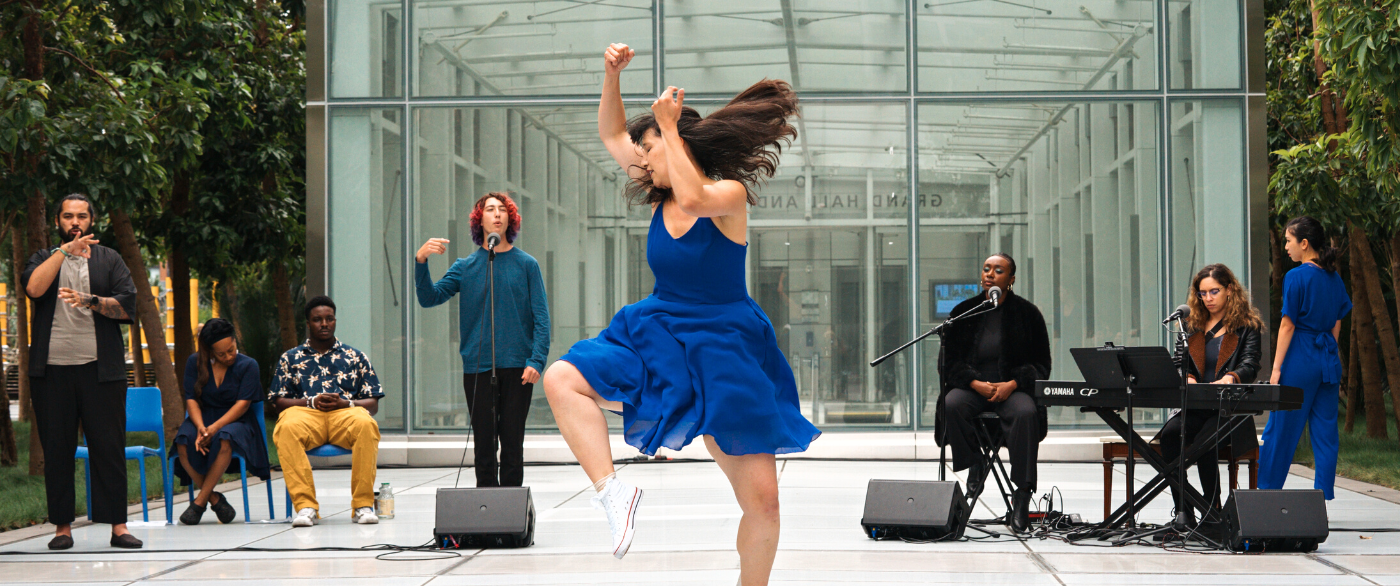 Artist Bios
Read more about today's artists…

Thomas Bowersox is a lighting designer, production manager, and technical director based in SF. He is a graduate of the University of South Florida, who has been working freelance in the entertainment industry for the past decade.

Grace D'Anca, a Minnesota-native, came to San Francisco in the mid-60's. She performed with small theater and improv dance ensembles, worked 45 years as a creative arts therapist with children, youth and adults, and collaborated with community groups to create murals, mosaics and cultural events in the Excelsior District. Now retired, she is imbibing in art, drama, writing, and dancing with the mirror.

Helen Dannenberg writes with Litquake, Older Writers Lab (OWL), Community Living Campaign, and Next Village. She worked in Long Term Care for 24 years, which included a five year stint at Santa Claus. As a choreographer and performer, she received Choreography Fellowships from the National Endowment for the Arts, California Arts Council, toured, and was an Artist-in-Residence at Senior Housing. She makes and shows assemblages of bones and found objects. Currently, she performs with Cosmic Elders.

Kelly Del Rosario was born and raised in Mililani, HI. He began his studies in Dance in 2001 at the University of Hawaii at Manoa and received his BFA in Dance in 2005. Upon graduation, Kelly moved to San Francisco where he has worked with various artists including the Margaret Jenkins Dance Company, Project Agora, Sarah Bush Dance Project, Robert Moses' Kin, project.b, and RAWdance.

Kevin Dublin is an educator, economic equity advocate, and writer of poetry, prose, scripts, and code. Currently Director of Litquake's Elder Writing Project, he's committed to helping nurture emerging writers of all ages and advocating for the radical redistribution of wealth of power. He is the founder of The Living Room Reading Series & Salon and is in the process of developing it into a non-profit incubator for writers. Kevin is a Writers Studio Ralph Dickey Scholar and has received fellowships, grants, and awards from the San Francisco Arts Commission (SFAC), Yerba Buena Center for the Arts (YBCA), Center for Cultural Innovation (CCI), Martha's Vineyard Institute of Creative Writing, and the North Carolina Poetry Society.

Mary Gayle (MG) Thomas was born and raised in Texas, but was improved by many years in the Bay Area. She worked as an executive secretary for many years, mostly spent editing and correcting other people's writing. She is retired from the business world, and now leads a memoir writing class for the Community Living Campaign. She also volunteers as a cat socializer at SF Animal Care & Control. MG mostly writes prose but the muse occasionally surprises her with a poem. Her poems and short stories have been published on the SF Library's Poem-a-Day website, in "Sparkle & Blink", and the e-zine PersimmonTree.org. MG lives in San Francisco with her husband, Rick, and their 3 cats.

Matthew Greer is an active participant of Litquake's Elder Project at the Bayview Senior Center. He brings a story of family, growth, hustle, sobriety and growing older to this final Step/Song/Story performance.

Dillon Vado is a drummer and vibraphonist who plays music that is an honest representation of his broad range of influences. Dillon is known for making music that is dynamic and complex but memorable and relatable. As comfortable laying down Brazilian grooves on drum set as he is improvising with poets on vibraphone, Dillon can be found playing with many of his own projects including The Table Trio, Beyond Words: Jazz and Poetry, and Amy D on vibes, as well as drumming/composing for Never Weather, who released their debut album Blissonance in 2020.

Juliann Witt was born in Marin and began dancing at the age of three. As a young dancer she trained at the California Academy of Performing Arts and attended summer programs with American Ballet Theatre and Alonzo King LINES Ballet. Juliann received her BFA in Dance Performance from SUNY Purchase and performed briefly in NYC post graduation. Since returning to the Bay Area she has had the pleasure of dancing with many great artists and companies including DTSF, Nol Simonse, Bellwether Dance Project, Dexandro "D" Montalvo, Fullstop Dance, Robert Moses' Kin, Liv Schaffer, Concept o4, and the San Francisco Symphony. She has been a member of RAWdance since 2018, and is incredibly grateful to have participated in numerous performances with these extraordinary artists!

Katerina (Katie) Wong is a multidisciplinary movement artist, choreographer, and Co-Artistic Director of RAWdance. Her work has been commissioned by Pop-Up Magazine, California Academy of Sciences, ACLU of Northern California, FACT/SF, PUSH Dance Company, Cutting Ball Theater, and more. Katie's choreography has been presented at venues including Lincoln Center, YBCA, ODC Theater, Z Space, CounterPulse, TJPA's Salesforce Park, Exploratorium, Yerba Buena Gardens, and Fort Mason. Katie graduated from Princeton University and has had the honor of performing with more than 15 Bay Area dance companies as a freelance artist. Katie has participated in arts leadership programs by Dance/USA, Women of Color in the Arts, APAP, and Asylum Arts. Her artistic practice is rooted in meaningful collaboration, community bridge building, and physical storytelling—a reflection of her mixed heritage as a first generation, Chinese-American, Jewish artist, and new mom.

Erin Yen holds a BFA with Distinction in Dance from The Ohio State University, where she became fluent in the Laban Systems of Movement Analysis. She was the first to use Labanotation to document Doug Varone's work, and she can be found polishing this notated portion of Possession ('94.) Erin has danced with companies such as Alvin Ailey and BalletMet, and she has performed works by artists Ohad Naharin, Bebe Miller, and Johannes Weiland. Since moving to the Bay Area, Erin has performed at venues such as Glen Park, CounterPulse, and the Green Room. She is a current resident of San Mateo.
About RAWdance
Read more about RAWdance…

RAWdance is an award-winning contemporary dance company known for transforming theaters and public spaces through performance, curation, collaboration, and film. The company creates adventurous, thoughtful, and welcoming programming that challenges what contemporary dance is, where it happens, who it includes, and the role it plays in our lives. A "rare treasure" (Critical Dance) and "witty, whip-smart, and beautiful to watch" (San Francisco Chronicle), RAWdance has performed throughout the U.S. and in Asia.

In addition to creating original works of dance and dance film, since 2007 RAWdance has presented works by over 140 Bay Area artists through its CONCEPT series salon, and 20 additional site-specific works through its curation of YBG ChoreoFest. Founded in San Francisco in 2004 by Smith and Rein, the company grew to include Wong as a third Artistic Director in 2019, while also expanding to two locations — New York's Hudson Valley as well as its home base in San Francisco. rawdance.org
About TJPA's Salesforce Park
Read more about the TJPA's Salesforce Park…

Seventy feet above the Grand Hall, Salesforce Rooftop Park runs the entire length of the Salesforce Transit Center, which is owned and operated by the Transbay Joint Powers Authority (TJPA). The TJPA, a historic collaboration between San Francisco Bay Area government and transportation agencies, delivers the Transbay program and manages the daily operations of the Salesforce Transit Center and Rooftop Park. Nearly four-blocks long and home to 600 trees and 16,000 plants arranged in 13 different botanical feature areas, the Rooftop Park is an iconic garden oasis that is open daily and offers free public activities. Everyone's welcome to enjoy this public park, a living roof where a curved walking trail lined with benches surrounds grassy lawns, dancing fountains, a children's play area, and an amphitheater. More info at SALESFORCETRANSITCENTER.COM
Special Thanks!
Thanks so much to all of the dancers, musicians, and poets who made Day 3 of Step/Song/Story 2022 come to life at TJPA's Salesforce Park! Many thanks to those working behind the scenes, including the hardworking staffs of TJPA's Salesforce Park and RAWdance, and all of our volunteers.
Support
Thank you for making future free public events possible!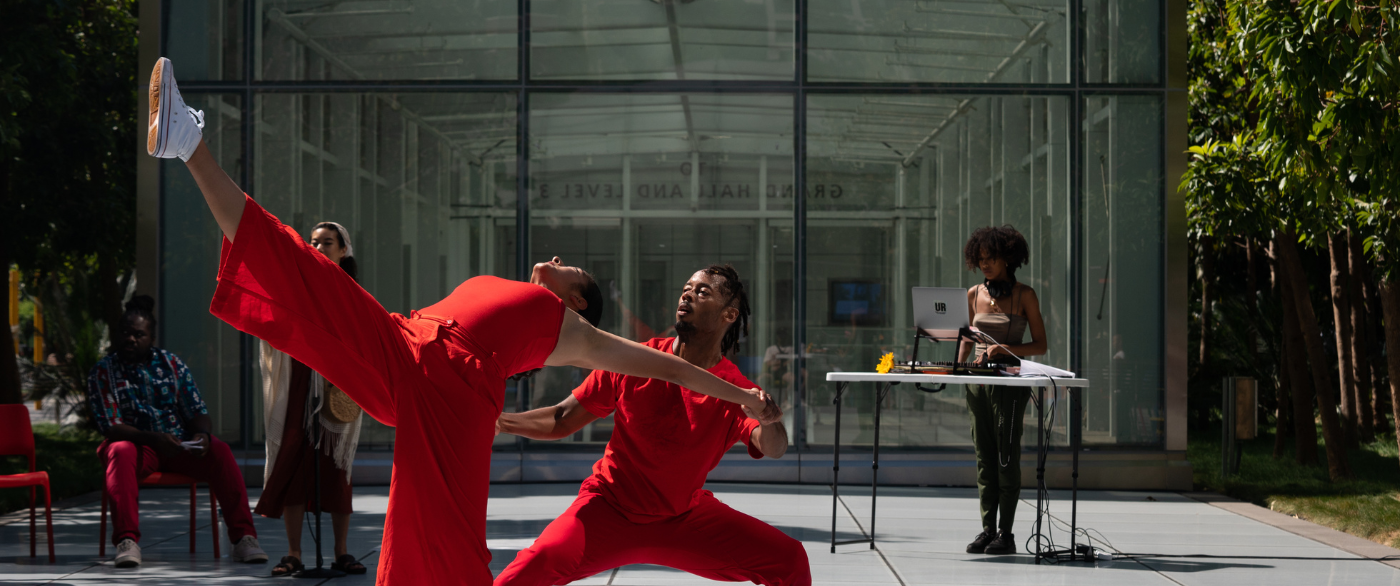 Photos by Robbie Sweeny