Conceived, curated, and choreographed by RAWdance's Co-Artistic Director Katerina Wong, Step/Song/Story is a free collaborative storytelling event that brings together Bay Area-based dancers, musicians, and text-based artists for a public cross-disciplinary performance. Visit our main event page for the full 2022 artist lineup, with performances on September 25, October 16, and November 20.
Step/Song/Story
October 16, 2022 at 12pm & 2pm
Concept, Curation, & Direction: Katerina Wong
Step: RAWdance collaborators Nick Wagner, Katerina Wong, and Stacey Yuen
Song: Cocoa Keys
Story: Bay Area Creative collaborators Bri Blue, Kai Heartlife, and Jamey Williams
Bay Area Creative Co-Curator: Mike Taylor
Technical Director: Thomas Bowersox
Production/Stage Manager: Twyla Malchow-Hay
Step/Song/Story is presented by RAWdance in partnership with the Transbay Joint Powers Authority (TJPA), owner and operator of the Salesforce Transit Center and Rooftop Park.
Land Acknowledgement
It is with gratitude and humility that we acknowledge that TJPA's Salesforce Park and RAWdance's home base are located in Yelamu, also known as San Francisco, on the unceded territory of the Ramaytush Ohlone people. We ask you to join us in acknowledging the Ramaytush Ohlone, their elders both past and present, as well as future generations and encourage you to learn more about the land where you reside at NATIVE-LAND.CA. To take direct action towards rematriation, read about the Bay Area's Shuumi Land Tax.
From the Artistic Director
We're thrilled to continue our partnership with TJPA's Salesforce Park to uplift incredible local artists through this free, public platform. There's nothing like seeing the kinetic energy of dancers, hearing the rhythmic pulse of musicians, and feeling the poignant words of poets to remind us of the multifaceted world we inhabit as humans. When we come together in creative conversation, our collective voices and stories generate vital space for reflection and transcendence. It's a true honor and inspiration to work with these artists. Special thanks to Bay Area Creative Co-Founder Mike Taylor for connecting us with this month's spoken word artists. Please enjoy the show, continue to support the arts in your communities, and join us for our final program of Step/Song/Story on Nov 20 with all new artists in collaboration!
– Katerina Wong, RAWdance Co-Artistic Director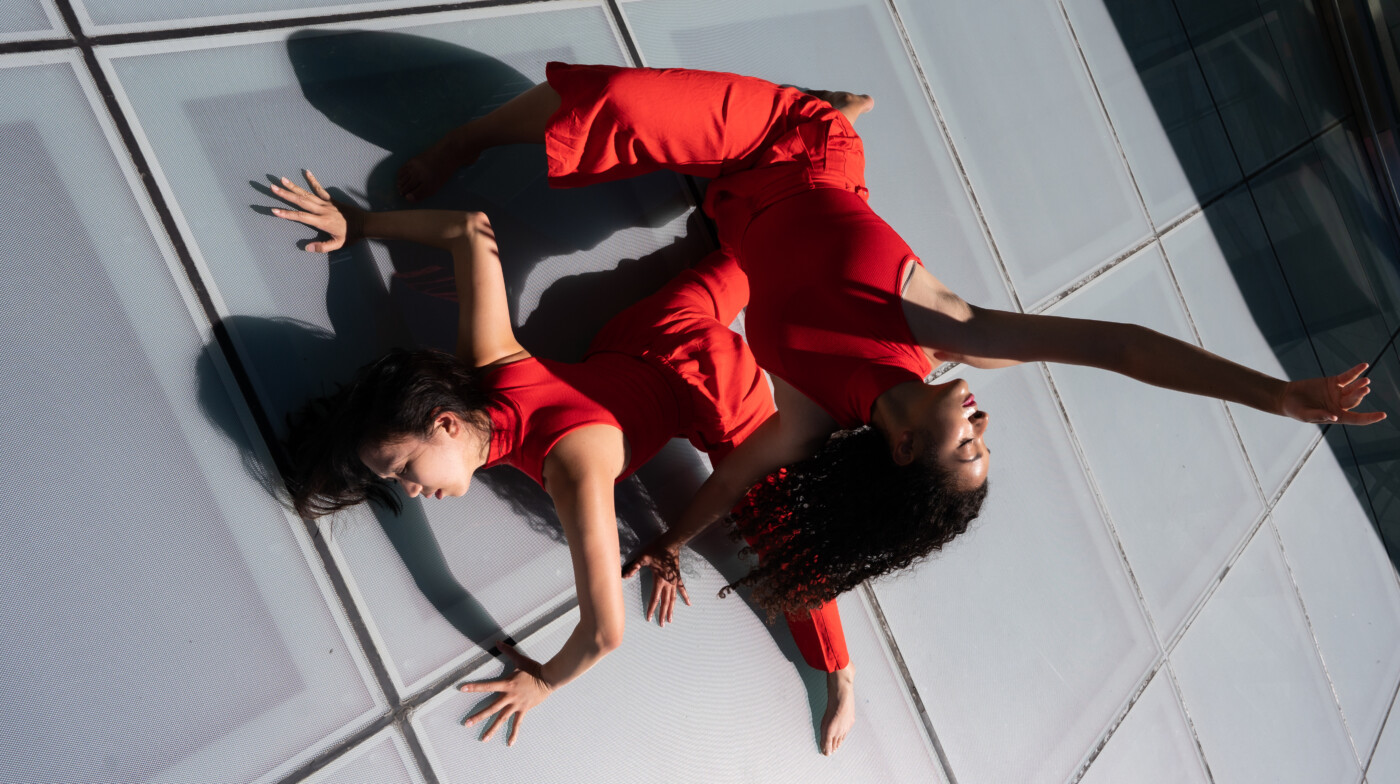 Artist Bios
Read more about today's artists…

Bay Area Creative is a collective of programs using spoken word to support positive change in underrepresented communities. As the flagship program of Bay Area Creative, SPARC poetry strives to create art communities in schools. Since 2008, SPARC Poetry has been teaching creative writing, stage performance, and social activism throughout the Bay Area. Nationally recognized artists run workshops in K-12 classrooms sharing their passion for performance arts, and inspiring youth to creatively address the world around them. The program serves over 6000 people per year at 32 school and community sites.

Brianni "Bri" Blue is a published author, spoken word artist and motivational speaker from Berkeley, CA. Bri's passionate and emotionally-charged performances allow her to connect with audiences through empathy, relatability and inspiration. She was the Founder and Host of the weekly "Speak Easy" open mic series, and created the 'Unapologetically You' Awareness Campaign with a mission to uplift and empower women.

Thomas Bowersox is a lighting designer, production manager, and technical director based in San Francisco. He is a graduate of the University of South Florida, who has been working freelance in the entertainment industry for the past decade.

Cocoa Keys is a contemporary R&B duo made up of two women of color singer-songwriters: Devon White and Olivia Carrington. Both artists are native to California and share a background in classical and jazz music. The dynamic duo brings a unique blend of jazz-infused neo-soul with a modern pop twist to their stylistic musical approach. Their uniquely stripped acoustic sound and raw lyrics are bound to resonate with any audience. With an assortment of popular cover music and original pieces, Cocoa Keys' tantalizing sound will leave you wanting more.

Kai Heartlife is an artist and poet from Pacifica. Kai was one of the 2022 Youth Speaks Poetry Slam Finalists and is currently on the YS SPOKES Youth Advisory Board. They have been doing poetry since 4th grade with Bay Area Creative in and outside of school. Kai also has performed with their parents since they were born, doing environmentally focused juggling shows.

Mike Taylor teaches spoken word to kids of all ages. He has performed on stages from San Francisco to London and he's led national poetry teams in competition. He co-founded the Bay Area Creative organization and continues to create workshops that connect to the youth from all walks of life.

Nick Wagner is a body mover and somatic healer in the Bay Area holding a BFA in dance performance and a minor in kinesiology from Chapman University. He is also a certified massage therapist (CMT) and a first level Responsive Body practitioner (RESPONSIVEBODY.COM). When not in the studio, Nick manages his bodywork practice NWBODYWORK.COM. The intersection of somatic experience, expression, and touch, as it's stretched across time, is what interests him the most.

Jamey Williams (he/him) has been teaching spoken word poetry workshops in K-12 schools since 2016, which is why most people know him as an educator. However, Jamey is also a community organizer and internationally recognized performer. In 2017, after winning the Compliment Death Match at the National Poetry Slam, he became the first person to be dubbed "the nicest poet in the country." That same year he co-founded the Rich Oak Alchemy Open Mic as well as the Cal State East Bay Slam Poetry Club. In 2020, Jamey came second place in the Bass Schuler Entertainment America's Best College Poet competition. His spoken word achievements also include: touring internationally, publishing two chapbooks, and performing at Twitter, Yelp, and Google Headquarters. What makes Jamey special, though, is that he is a multi-disciplinary force to be reckoned with! In addition to poetry he is also known for his screen and stage acting. He was featured in a Truth Anti Tobacco commercial which premiered at the 2018 Grammys before being shown on television stations around the country. Jamey has also been featured in StubHub ads and 2020 presidential voter PSAs. When Jamey isn't teaching, acting, or competing, he spends his time writing music and pursuing his Master's Degree.

Katerina (Katie) Wong (she/her) is a multidisciplinary movement artist, choreographer, and Co-Artistic Director of RAWdance. Her work has been commissioned by Pop-Up Magazine, California Academy of Sciences, ACLU of Northern California, FACT/SF, PUSH Dance Company, Cutting Ball Theater, and more. Katie's choreography has been presented at venues including Lincoln Center, YBCA, ODC Theater, Z Space, CounterPulse, TJPA's Salesforce Park, Exploratorium, Yerba Buena Gardens, and Fort Mason. Katie graduated from Princeton University and has had the honor of performing with more than 15 Bay Area dance companies as a freelance artist. Katie has participated in arts leadership programs by Dance/USA, Women of Color in the Arts, APAP, and Asylum Arts. Her artistic practice is rooted in meaningful collaboration, community bridge building, and physical storytelling—a reflection of her mixed heritage as a first generation, Chinese-American, Jewish artist, and new mom.

Stacey Yuen is a Bay Area native and received her BFA in Dance from NYU's Tisch School of the Arts. She went on to work with Seán Curran and the Santa Fe Opera, and to travel to Greece to perform in works by Johannes Wieland and Stella Zannou at the one small step dance festival. She spent three seasons as a dancer and rehearsal director with the Sticky Trace Company in Germany. Since returning to the Bay, Stacey has worked with Robert Moses, Katie Faulkner, Jennifer Perfilio, Lenora Lee Dance, Alyssandra Katherine Dance Project, and RAWdance.
About RAWdance
Read more about RAWdance…

RAWdance is an award-winning contemporary dance company known for transforming theaters and public spaces through performance, curation, collaboration, and film. The company creates adventurous, thoughtful, and welcoming programming that challenges what contemporary dance is, where it happens, who it includes, and the role it plays in our lives. A "rare treasure" (Critical Dance) and "witty, whip-smart, and beautiful to watch" (San Francisco Chronicle), RAWdance has performed throughout the U.S. and in Asia.

In addition to creating original works of dance and dance film, since 2007 RAWdance has presented works by over 140 Bay Area artists through its CONCEPT series salon, and 20 additional site-specific works through its curation of YBG ChoreoFest. Founded in San Francisco in 2004 by Smith and Rein, the company grew to include Wong as a third Artistic Director in 2019, while also expanding to two locations — New York's Hudson Valley as well as its home base in San Francisco. rawdance.org
About TJPA's Salesforce Park
Read more about the TJPA's Salesforce Park…

Seventy feet above the Grand Hall, Salesforce Rooftop Park runs the entire length of the Salesforce Transit Center, which is owned and operated by the Transbay Joint Powers Authority (TJPA). The TJPA, a historic collaboration between San Francisco Bay Area government and transportation agencies, delivers the Transbay program and manages the daily operations of the Salesforce Transit Center and Rooftop Park. Nearly four-blocks long and home to 600 trees and 16,000 plants arranged in 13 different botanical feature areas, the Rooftop Park is an iconic garden oasis that is open daily and offers free public activities. Everyone's welcome to enjoy this public park, a living roof where a curved walking trail lined with benches surrounds grassy lawns, dancing fountains, a children's play area, and an amphitheater. More info at SALESFORCETRANSITCENTER.COM
Special Thanks!
Thanks so much to all of the dancers, musicians, and poets who made Day 2 of Step/Song/Story 2022 come to life at TJPA's Salesforce Park! Many thanks to those working behind the scenes, including the hardworking staffs of TJPA's Salesforce Park and RAWdance, and all of our volunteers.
Support
Thank you for making future free public events possible!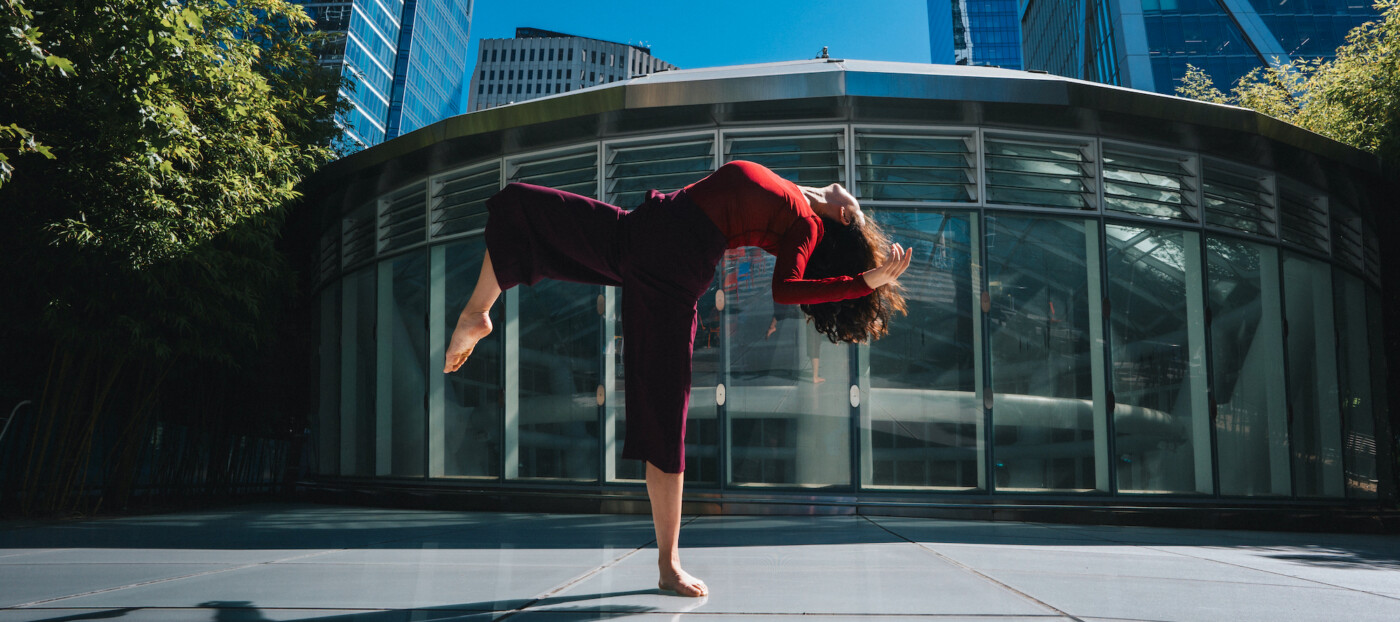 Photos by Robbie Sweeny