Conceived, curated, and choreographed by RAWdance's Co-Artistic Director Katerina Wong, Step/Song/Story is a free collaborative storytelling event that brings together Bay Area-based dancers, musicians, and text-based artists for a public cross-disciplinary performance. Visit our main event page for the full 2022 artist lineup, with performances on September 25, October 16, and November 20.
Step/Song/Story
September 25, 2022 at 12pm & 2pm
Concept, Curation, & Direction: Katerina Wong
Step: RAWdance collaborators Claire Fisher, ArVejon Jones, and Katerina Wong
Song: Madre Guía (aka Stephanie Hewett)
Story: Kevin Dublin and participants of The Living Room Reading Series & Salon, Giovanna Lomanto & David S. Maduli
Technical Director: Thomas Bowersox
Production/Stage Manager: Twyla Malchow-Hay
Step/Song/Story is presented by RAWdance in partnership with the Transbay Joint Powers Authority (TJPA), owner and operator of the Salesforce Transit Center and Rooftop Park.
Land Acknowledgement
It is with gratitude and humility that we acknowledge that TJPA's Salesforce Park and RAWdance's home base are located in Yelamu, also known as San Francisco, on the unceded territory of the Ramaytush Ohlone people. We ask you to join us in acknowledging the Ramaytush Ohlone, their elders both past and present, as well as future generations and encourage you to learn more about the land where you reside at NATIVE-LAND.CA. To take direct action towards rematriation, read about the Bay Area's Shuumi Land Tax.
From the Artistic Director
We're thrilled to continue our partnership with TJPA's Salesforce Park to uplift incredible local artists through this free, public platform. There's nothing like seeing the kinetic energy of dancers, hearing the rhythmic pulse of musicians, and feeling the poignant words of poets to remind us of the multifaceted world we inhabit as humans. When we come together in creative conversation, our collective voices and stories generate vital space for reflection and transcendence. It's a true honor and inspiration to work with these artists. Please enjoy the show, continue to support the arts in your communities, and join us for our next two programs of Step/Song/Story on Oct 16 & Nov 20 with all new artists in collaboration!
– Katerina Wong, RAWdance Co-Artistic Director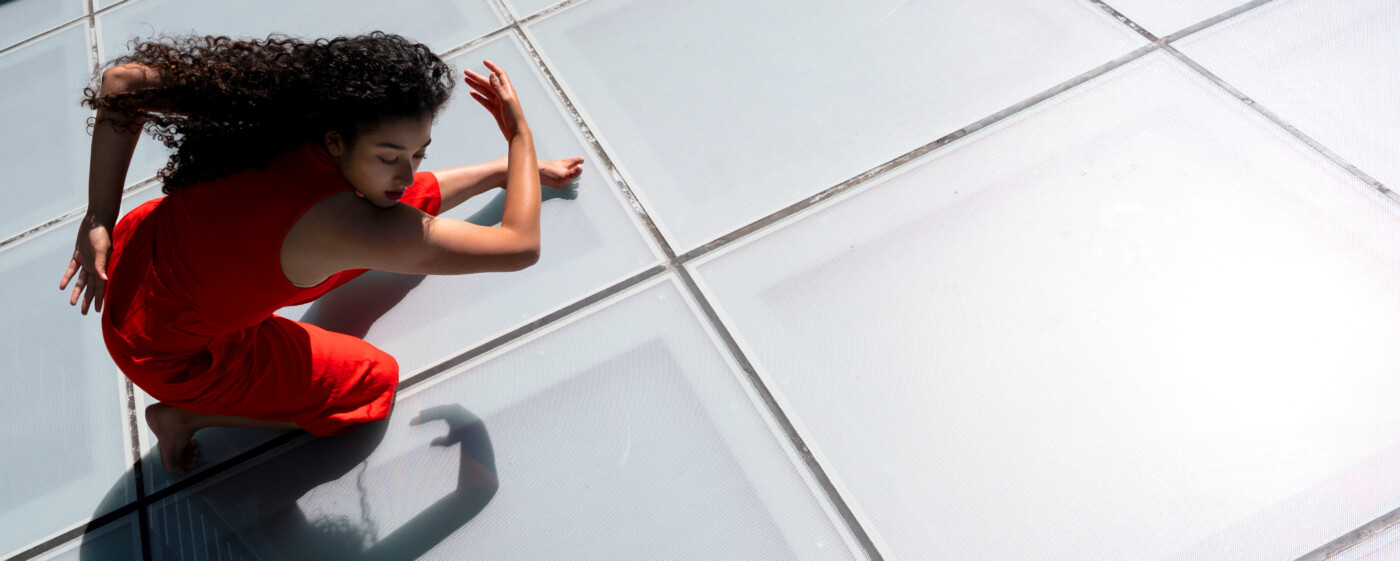 Artist Bios
Read more about today's artists…

Thomas Bowersox is a lighting designer, production manager, and technical director based in SF. He is a graduate of the University of South Florida, who has been working freelance in the entertainment industry for the past decade.

Kevin Dublin is an educator, economic equity advocate, and writer of poetry, prose, scripts, and code. Currently Director of Litquake's Elder Writing Project, he's committed to helping nurture emerging writers of all ages and advocating for the radical redistribution of wealth of power. He is the founder of The Living Room Reading Series & Salon and is in the process of developing it into a non-profit incubator for writers. Kevin is a Writers Studio Ralph Dickey Scholar and has received fellowships, grants, and awards from the San Francisco Arts Commission (SFAC), Yerba Buena Center for the Arts (YBCA), Center for Cultural Innovation (CCI), Martha's Vineyard Institute of Creative Writing, and the North Carolina Poetry Society. He is author of How to Fall in Love in San Diego (Finishing Line Press) and his words have recently appeared in The San Franciscan, Cincinnati Review, North Carolina Literary Review, & more. Kevin holds a BFA & BA in Writing & Technology from the University of North Carolina at Wilmington, MA in English from East Carolina University, as well as an MFA in Poetry from San Diego State, and for a little Black boy from Smithfield, NC, believes he has been brought a mighty long way.

Claire Fisher was born and raised in Tracy, California. She received a majority of her training from Alonzo King LINES Ballet, San Francisco Conservatory of Dance, Hubbard Street Dance Chicago, & Northwest Dance Project. Now a freelance artist in San Francisco, she has appeared in several works and collaborations with wonderful artists and companies such as Brannigan Dance Works, Dazaun Soleyn, Fullstop Dance, Garrett + Moulton Productions, Liv Schaffer, RAWdance, ZiRu Dance and The MoveMessenger(s).

Stephanie Hewett (she/they) is an interdisciplinary artist from the Bronx, New York (Lenapehoking territory) currently residing in Oakland, CA (Ohlone-Chochenyo territory). She is a graduate of Fiorello H. LaGuardia High School of Music & Art and the Performing Arts in New York City and has studied at the Laban Conservatoire of Music and Dance in London. She holds an MFA in Dance Studies and uses both music and movement to access pathways towards resistance and liberation rooted in spiritual, physical, and sonic defense. Hewett DJ's and produces electronic music under the moniker, Madre Guía. Her Afro-Caribbean roots guide her towards polyrhythmic potentialites of intergenerational healing.

ArVejon Jones is a Bay Area freelance dance artist and educator. Originally from Los Angeles, CA he has performed with Copious Dance Theater, Robert Moses Kin, PUSH Dance, SOULSKIN Dance, ODC Dance/ SF, Concept o4, Sean Dorsey Dance, Prometheus Dance Theater, Jean Appolon Expressions, and Garrett + Moulton Productions among others. He has taught for multiple institutions including San Francisco State University, BodyVox, Boston Ballet, LINES/SF Dance Center, and various private dance studios. He is delighted to be collaborating with RAWdance.

Giovanna Lomanto is a Bay Area poet and teaching artist with a passion for investigating self-liberation through the arts. An alumnus of U.C. Berkeley and a current MFA candidate at NYU's low-residency program, she finds power in education, and therefore holds a passion for delivering that same power to youth—in classrooms, workshops, and mentorships. Her work has been featured on KALW, the Worth-Ryder Art Gallery, the Flor y Canto Literary Festival, Box, and The Elevation Review. She is the author of two poetry collections: no body in particular (Scrambler Books, 2019) and jupiter fell out the sky last night (Bound to Brew, 2021). You can follow her on Instagram @giovanna_lomanto for updates on future projects. She currently resides in Oakland, CA with her friends, most notably her lionhead bunny Maggie.

David S. Maduli is a father, veteran public school educator, DJ and writer. He is a recipient of the Joy Harjo Poetry Prize, and his manuscript was the National 1st Runner-Up for The Inlandia Institute's Hillary Gravendyk Prize. His work appears recently Entropy, Sonora Review, Cream City Review, Kweli Journal, and The /tƐmz/ Review. An alumnus of the VONA, Las Dos Brujas, Martha's Vineyard Institute of Creative Writing, and Napa Valley Writers' workshops, he holds degrees from UC Berkeley and Harvard Graduate School of Education and completed his MFA in Creative Writing at Mills College with a fellowship in Community Poetics. A descendant of migrants from the Philippines, he was born in San Francisco, raised all over, and is a longtime resident of Oakland, CA. He teaches poetry craft and literature in the MFA in Writing program at Lindenwood University and can be found on Instagram @dmad_ness.

Katerina (Katie) Wong (she/her) is a multidisciplinary movement artist, choreographer, and Co-Artistic Director of RAWdance. Her work has been commissioned by Pop-Up Magazine, California Academy of Sciences, ACLU of Northern California, FACT/SF, PUSH Dance Company, Cutting Ball Theater, and more. Katie's choreography has been presented at venues including Lincoln Center, YBCA, ODC Theater, Z Space, CounterPulse, TJPA's Salesforce Park, Exploratorium, Yerba Buena Gardens, and Fort Mason. Katie graduated from Princeton University and has had the honor of performing with more than 15 Bay Area dance companies as a freelance artist. Katie has participated in arts leadership programs by Dance/USA, Women of Color in the Arts, APAP, and Asylum Arts. Her artistic practice is rooted in meaningful collaboration, community bridge building, and physical storytelling—a reflection of her mixed heritage as a first generation, Chinese-American, Jewish artist, and new mom.
About RAWdance
Read more about RAWdance…

RAWdance is an award-winning contemporary dance company known for transforming theaters and public spaces through performance, curation, collaboration, and film. The company creates adventurous, thoughtful, and welcoming programming that challenges what contemporary dance is, where it happens, who it includes, and the role it plays in our lives. A "rare treasure" (Critical Dance) and "witty, whip-smart, and beautiful to watch" (San Francisco Chronicle), RAWdance has performed throughout the U.S. and in Asia.

In addition to creating original works of dance and dance film, since 2007 RAWdance has presented works by over 140 Bay Area artists through its CONCEPT series salon, and 20 additional site-specific works through its curation of YBG ChoreoFest. Founded in San Francisco in 2004 by Smith and Rein, the company grew to include Wong as a third Artistic Director in 2019, while also expanding to two locations — New York's Hudson Valley as well as its home base in San Francisco. rawdance.org
About TJPA's Salesforce Park
Read more about the TJPA's Salesforce Park…

Seventy feet above the Grand Hall, Salesforce Rooftop Park runs the entire length of the Salesforce Transit Center, which is owned and operated by the Transbay Joint Powers Authority (TJPA). The TJPA, a historic collaboration between San Francisco Bay Area government and transportation agencies, delivers the Transbay program and manages the daily operations of the Salesforce Transit Center and Rooftop Park. Nearly four-blocks long and home to 600 trees and 16,000 plants arranged in 13 different botanical feature areas, the Rooftop Park is an iconic garden oasis that is open daily and offers free public activities. Everyone's welcome to enjoy this public park, a living roof where a curved walking trail lined with benches surrounds grassy lawns, dancing fountains, a children's play area, and an amphitheater. More info at SALESFORCETRANSITCENTER.COM
Special Thanks!
Thanks so much to all of the dancers, musicians, and poets who made Day 1 of Step/Song/Story 2022 come to life at TJPA's Salesforce Park! Many thanks to those working behind the scenes, including the hardworking staffs of TJPA's Salesforce Park and RAWdance, and all of our volunteers.
Support
Thank you for making future free public events possible!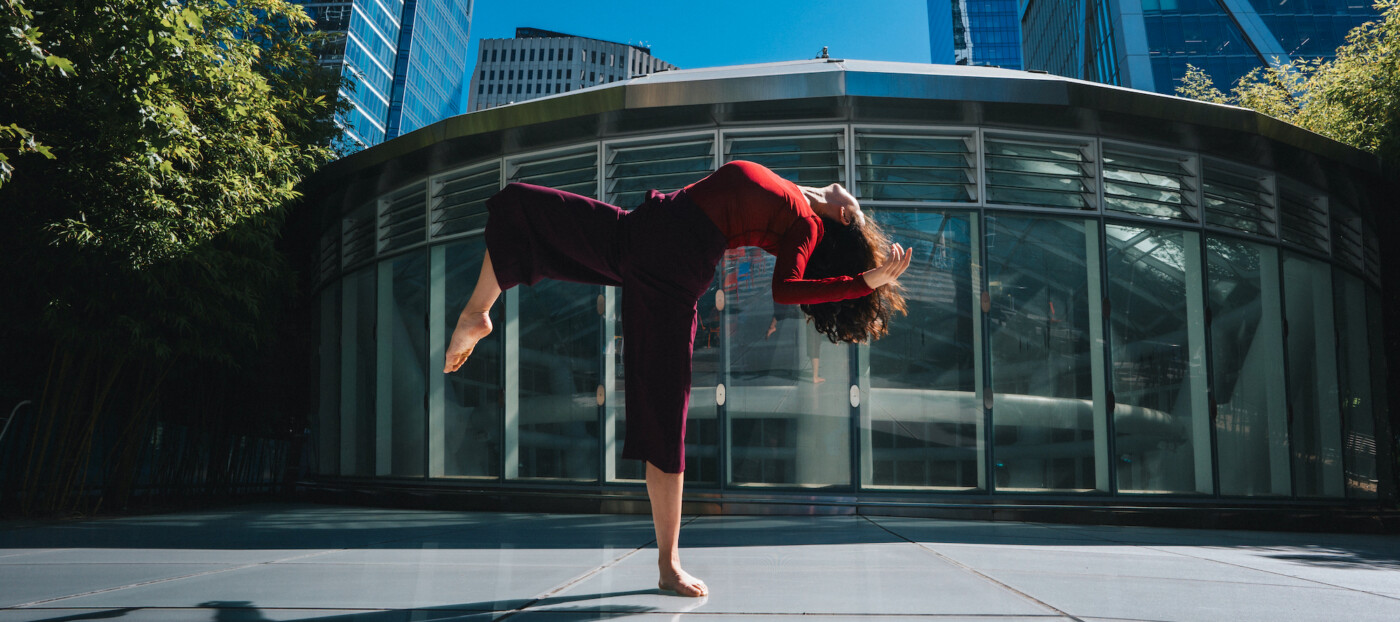 Photos by Robbie Sweeny